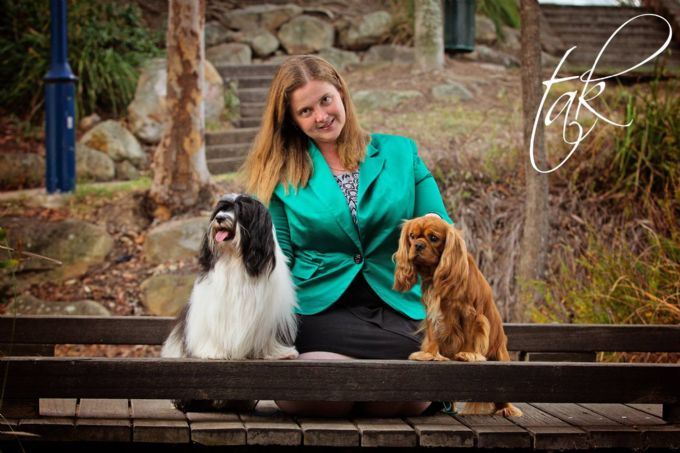 Hello and welcome to the Fasusq home on the web.

Pictured above is myself with Dom the Havanese - BISS BIS Supreme Champion Torza Dom Del A Vega - owned by Meghan Boole & Diane Anderson and Wesley RUBIS CH Fasusq BitterSweet Symphony bred/owned by Fasusq. Dom and Wesley were best friends and between them won
mult
iple Best and Reserve in Groups and also Best and Reserve in Shows!
My name is Amanda Dunne and I live near Toowoomba in sunny QLD (which is less than 2 hours from Brisbane). Toowoomba is well known for its "Carnival of Flowers" events held in September.
Fasusq- pronounced "Fah-Soo-Sk" - came from the combination of 3 of my dogs names...

Fa - FAyme - my favourite childhood English Springer Spaniel
Su - SUtek - the first Cavalier in my name (in 2006)
Sq - SQuirrel - my first Junior Handlers dog; an English Setter

Although the name "Fasusq" was only established in 2007, I have been actively involved with dogs my entire life as my mother bred and showed English Setters and English Springers when I was a child, and still remains active in the Dog World with Cavaliers as well - breeding under the "Aberlour" prefix.

In preperation for when I would want my own dog to show (at the time, it was 10 years of age in QLD to start showing) my mother thought it would be better to get a smaller dog that would be easier for me to show. Co-incidentally a client of hers from work had a litter of puppies and wanted to know her opinion of them. The puppies were lovely!! A week or 2 later we had a Cavalier puppy whom we named Meg (Springset Spice Girl) and we have been hooked ever since.

Due to CoVid and my working commitments, I have now drastically reduced the number of shows I attend and also how far I am willing to travel.


Member of the following clubs:
~Dogs QLD
~Darling Downs Kennel Club (Vice President)
~Toowoomba Royal Canine Section
~Cavalier Club of Tasmania


Approved ANKC/Dogs QLD Junior Handler Judge
Group 1 Championship Judge
ANKC Accredited Steward & Writer
Contact Details
Amanda Dunne
Petrie (Brisbane North), QLD, Australia
Email :
[email protected]
109063 Visitors