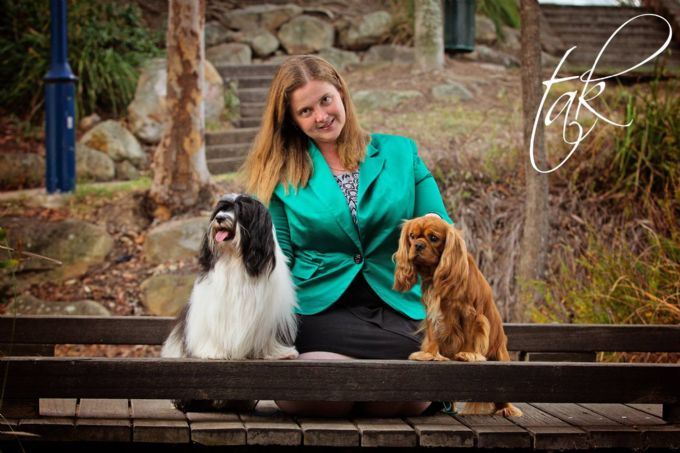 Hello and welcome to the Fasusq home on the web.

Pictured above is myself with Dom the Havanese (BISS BIS Supreme Champion Torza Dom Del A Vega) whom I occasionally get to steal from my good friends to show and Wesley (RUBIS CH Fasusq BitterSweet Symphony)
My name is Amanda Dunne. I live in sunny QLD in a town called "Westbrook" which is about 15 minutes from Toowoomba (less than 2 hours away from Brisbane). Toowoomba is well known for its "Carnival of Flowers" events in September - of which I always miss the event as its on the same day as the Cavalier Club open show every year!
Fasusq- pronounced "Fah-Soo-Sk" - came from the combination of 3 of our dogs names...

Fa - FAyme - my favourite childhood English Springer Spaniel
Su - SUtek - my first official Cavalier in my name (in 2006)
Sq - SQuirrel - my first Handlers dog; an English Setter

Althought the name "Fasusq" was only established in 2007, I have been actively involved with dogs my entire life as my mother bred and showed English Setters and English Springers when I was a child and to this day has Cavaliers.

In preperation for when I would want my own dog to show (at the time, it was 10 years of age in QLD to start showing) my mother thought it would be better to get a smaller dog that would be easier for me to show.

Co-incidentally a client of hers from work had a litter of puppies and wanted to know her opinion of them. The puppies were GORGEOUS!! A week or 2 later we had a Cavalier puppy whom we named Meg (Springset Spice Girl) and we have been hooked ever since.


Member of the following clubs:
~Dogs QLD
~Darling Downs Kennel Club (Vice President)
~Toowoomba Royal Canine Section
~Dog of the Year Committee
~Waterloo Bay Kennel Club (Committee)
~Terrier & Toy Club of NSW
~Cavalier Club of Tasmania


Approved ANKC/Dogs QLD Junior Handler Judge
Group 1 Open Show Judge
ANKC Accredited Steward & Writer
49780 Visitors