Champion Marcavan Storm Chaser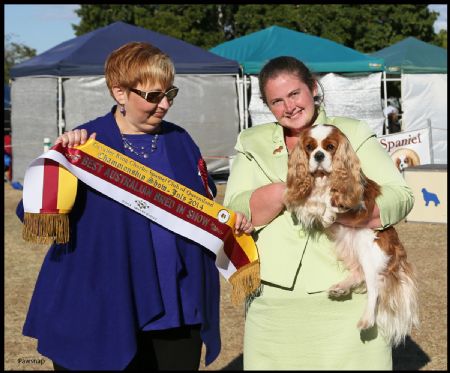 Cavalier King Charles Spaniel
Sire - CH Marcavan RyderOthaStorm
Dam - CH Marcavan Scadalous Rose
DOB - 24th February 2010
Bred & Owned by MaryAnne Silvester
Co-Owned & Handled by Amanda Dunne
•
•
Introducing one of my absolute favourite dogs...
•
•
~ * ~ C H A S E R ~ * ~
(aka Grumpy Bum)
•
•
Chaser now lives a life of luxury at Marcavan HQ in Launceston with his "other mother" MaryAnne. I thank her enormously for sharing her very special boy with me by allowing him to come to Qld for the winter - multiple times!
•
•
Not used at stud much - quality over quantity,
He has still been an amazing producer for us here at Fasusq including my heart dogs

Reserve in Show and multiple Best in Group winning
*Wesley*
CH Fasusq BitterSweet Symphony (dec'd)

&

multiple class in group winning
*Freddie*
Fasusq Bohemian Rhapsody (dec'd)
•
•
Chaser has played a major part in my breeding program since meeting Mary-Anne in October of 2011. I will be forever thankful to her for sharing her knowledge and dogs with me.
Sire : CH Marcavan RyderOthaStorm
S: GR CH Dapsen Days O Thunder
S: CH Caribelle Heez Rhett
D: CH Dapsen Jolli Madame
D: Marcavan Blue Sky Mine
S: CH Marcavan Song and Dance
D: Breshaad Reciprokate
Dam : CH Marcavan Scandalous Rose
S: GR CH Marcavan Royal Scandal
S: Chevalier Royal Encore
D: Breshaad Reciprokate
D: Marcavan Dazlin Ambition
S: CH Marcavan Dazzle By Night
D: Bowhouse Aim High
Contact Details
Amanda Dunne
Petrie (Brisbane North), QLD, Australia
Email :
[email protected]