Puppies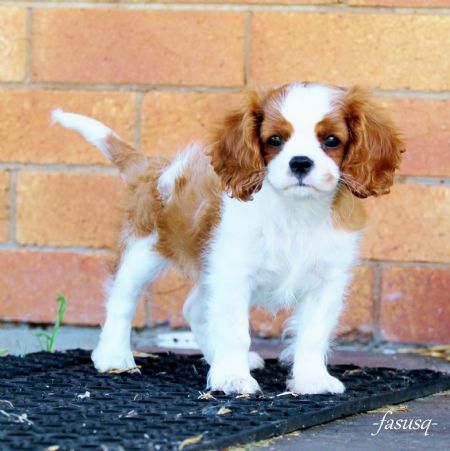 Updated - 18th November 2022
*
*
We don't have litters here very often. However, depending on timing, we have some big plans for the next 18 months or so!

They are:

Gloria (CH Fasusq Don't Dream its Over) x Sherman (CH Marcavan Liberator)
expecting Blenheims / Tricolours
Lucy (Fasusq Lie a Little Better {AI}) x Sherman (CH Marcavan Liberator)
Lavender (CH Marcavan Truly Madly Deeply @ Fasusq) x Lucas (CH Fasusq Truth or Dare {AI})
This is a plan for mid 2023.
expecting all 4 colours
*
*
We don't breed for other people - We do it for ourselves to keep a puppy as the next generation of "Fasusq" first and foremost. Puppies that aren't kept by us are available as pets to suitable homes.

Our puppies grow up in our house including the bedroom, lounge room, kitchen & bathroom. So that they can "acclimatise" to household noises.
By the time that the new "parents" pick up their puppy, they would have been wormed fortnightly, vaccinated and vet checked.

All Fasusq puppies leave:
DNA tested
and with a Folder including:
registration pedigree
Parents health records
6 weeks of free Pet Plan insurance
Vaccination certificate etc
Breed & training Information
Grooming products
Lead & Toy
travel crate
Food & Bowl
Contact Details
Amanda Dunne
Brisbane North, QLD, Australia
Email :
[email protected]